A great Neapolitan history of hospitality that has been handed down for generations for over a century.
The panoramic road from the Bay of Naples to Positano snakes along the Sorrento Peninsula, passing through the pretty little village of Sant'Agata sui Due Golfi on its way. Its name derives from its position amidst the highly scented mediterranean maquis, poised between the Bay of Naples and the Gulf of Salerno.
It is also home to Don Alfonso 1890.
An absolute icon of exclusive hospitality and Italian haute cuisine. A unique place, conceived, developed and run with great care, passion and enthusiasm on a daily basis by the Iaccarino family. Don Alfonso himself, a legend in the history of Italian cuisine, and his wife Livia, welcome their guests into their own home. Sophisticated and original settings create a harmonious atmosphere, midway between classical style and modernism, art and craft. The pure white interiors emphasise the period furnishings and hand-painted majolica typical of the Amalfi Coast. The extraordinary gastronomic fare is served with class and expertise, while preserving all the authenticity and genuineness of Campania's flavours. The food prepared by Alfonso and his son Ernesto is a declaration of love for this corner of Italy dotted with lemon groves, vineyards, olive trees and ancient ruins. They use mouth-watering produce from their own farm, Le Peracciole, to create genuine mediterranean masterpieces, based on simple recipes and individual ingredients.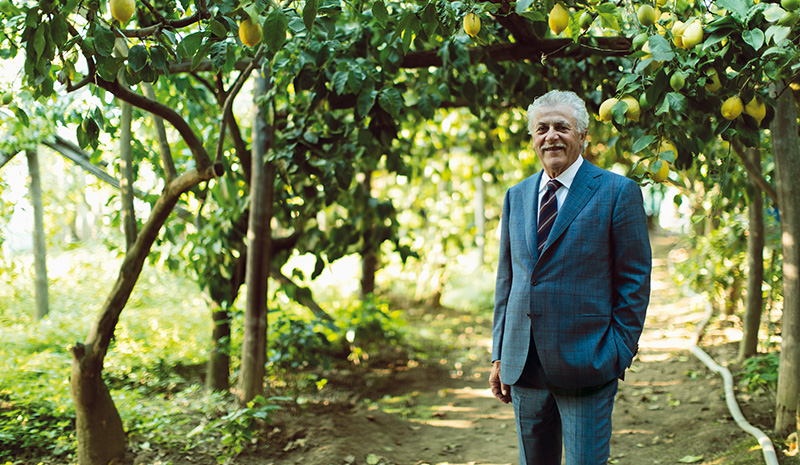 Don Alfonso 1890 represents an extremely important chapter in the history of Italian haute cuisine. Don Alfonso, can you tell us what steps you and your family took to make a name for yourselves all over the world?
It's all down to the DNA of four generations of hospitality, and respecting guests and the work ethic instilled in me by my grandfather and father.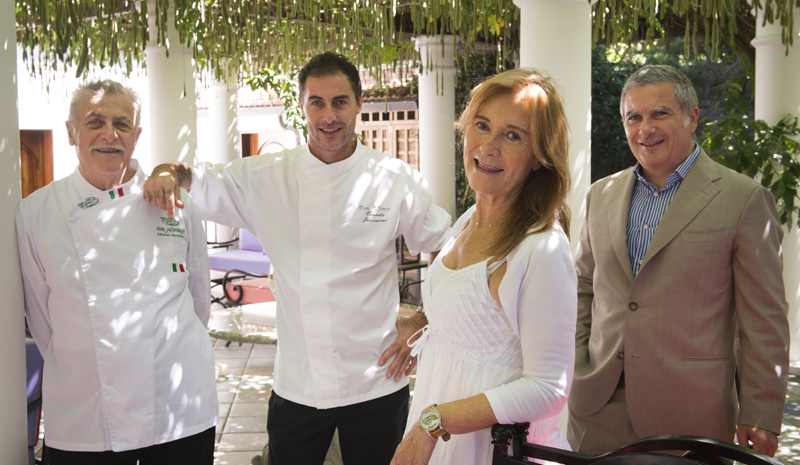 Your story of is one of a great vision: succeeding in reviving the culinary heritage of your local area and Campania as a whole at a time when Italian gastronomy was heading towards marked xenophilia. What experiences led you to develop this awareness?
In the 1980s I began to explore my sector thoroughly. I travelled far and wide around major countries renowned for their food production and sought to understand how they invested their energies in its promotion. It was then that I realised I wanted to do everything I could to promote the great products of my land, of the Italian south and of Italy at a whole, at a time when xenophilia reigned supreme.
At Cesare Attolini tradition represents a legacy of unique manual expertise developed over the years by Vincenzo and Cesare Attolini. What does tradition represent for your cooking?
At this point I would like to cite Eduardo de Filippo: "Only after having studied, explored and respected tradition is one entitled to set it aside, albeit in the constant awareness that we are indebted to it, at least for having helped to clarify our ideas. Naturally, if we remain tied to the past, the life that goes on becomes life that stands still, but if we use tradition as a launch pad, we will obviously rise higher and higher." What is the relationship between raw ingredients and creativity in your cuisine? Raw ingredients are the most important thing in the kitchen. I would say they are fundamental and I love watching nature as it changes during the four seasons. Creativity is something you have inside yourself, but you use it to enhance the products and not vice versa.
Over the years, your forward-thinking has led you to establish a farm that produces top-quality produce and vaunts a truly exceptional setting. Tell us more about Le Peracciole.
Le Peracciole has always been an organic farm and is my little corner of heaven, stimulating my mind. I have monitored it closely on a daily basis for twenty-six years, and have only ever been separated from it during business trips. I have worked – and continue to do so – alongside experts in the sector to revive top-quality products, many of which, due to their low yields, had practically disappeared from the large-scale food industry. I am firmly convinced that healthy food improves quality of life. Indeed, this is proven by scientific studies. We are what we eat.
A few years ago you handed over this legacy to your son Ernesto, just as Cesare left his legacy of expertise to his sons Massimiliano and Giuseppe. What did you want to teach him and how do you see the future of Don Alfonso 1890?
Generational changes can cause problems. I always tried to let my children express their ideas freely and come up with plans without being overbearing, instead respecting what they had to say. I have always sought calm, constructive dialogue, offering them the benefits of my many years of experience. As regards the future, I believe Don Alfonso 1890 has already embarked upon what looks set to be its style for years to come: modern, creative, Mediterranean cuisine, respecting the health of our guests.