In just a few moments, his observant glance takes in everything that surrounds him, revealing a man animated by a vibrant curiosity. His carefully chosen words, few in number but loaded with passion, are those of a man driven by his emotions but also, at the same time, by a strong sense of dignity. We meet Horacio Pagani in the futuristic factory-museum of San Cesario su Panaro, created with his own team of designers, to take him back down memory lane and find out how he managed to create the most exclusive tailor's shop for supercars in the world.
How did Pagani begin? Can you describe the passions, intuitions and vision that led you to breathe life into this company and this brand which is undoubtedly a household name today when it comes to supercars, in fact one of the most admired and coveted in the world?
First of all, let me say that I have been very lucky. Lucky because, since I was a boy, I have always kindled a passion for art, one for scientific subjects and another one for mechanics, all at the same time. This is an eclecticism that has brought me closer to the automotive world since my childhood, because I realised that all these passions could be used at once. I lived in a very small village in the Pampas in Argentina, Casilda, in the province of Santa Fe. A village strongly influenced by Italian culture, because 70% of the population were families with Italian origins. My grandfather was one of those who came here from Italy, from the Como area, at the end of the 1800s, and he opened a bakery, which is still there today, one hundred and thirty years on. Every so often, a magazine would arrive from Italy and it was when I read these that I learned about an Italian city, Modena, that happened to be home to many companies, such as Maserati, Ferrari, Lamborghini, renowned for producing the most beautiful cars in the world. This was how my great passion for supercars was sparked, and it encouraged me, between the ages of 10 and 12 years old, to create my very first designs, and make them into models of balsa wood or whatever other materials I was able to lay my hands on. Of course, it was all just a game back then, but for me it soon turned into something more, a commitment that I took very seriously.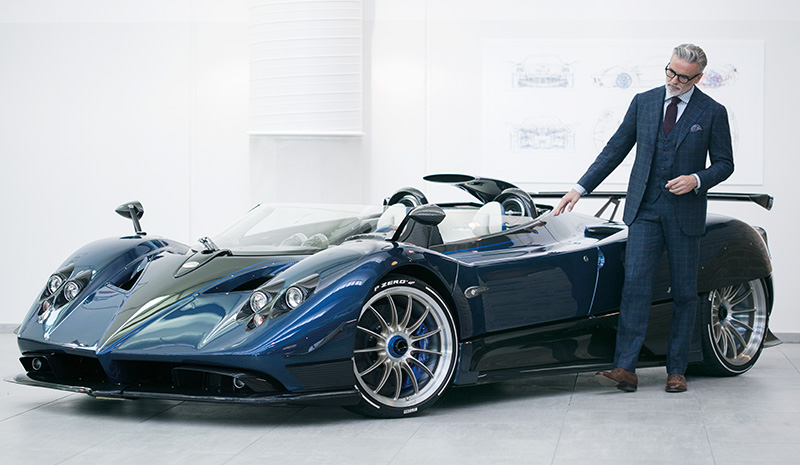 Then, as the years passed, you developed a passion for Leonardo Da Vinci. How did that influence what you were doing?
I believe that studying Leonardo marked a crucial turning point both in my personal life and for my career. Simply because the idea that art and science can go hand-in-hand was his. In this message, I discovered an extremely powerful source of inspiration that has always guided me throughout the years. I realised that I didn't have to choose between my passion for art and my passion for science, but that instead I could combine them, study them both, and even take an interest in other subjects too, such as philosophy. When I was still very young, as well as studying, I was also lucky enough to find a job in a workshop, where I could apply my passion for mechanics to any type of vehicle. This was how I managed to save some money, which I would then use to build my very first car, a racing car. It was my first test bench ever and, more than anything else, it gave me the chance to meet a number of people, including the great Fangio, who helped me get to Modena.
The story goes that, when you were only 13 years old, you told your mother that one day you would have come here to Modena to build supercars. Is this true?
Yes, it's absolutely true. Although I lived thousands of kilometres away from here, this land has always drawn me inextricably towards it. The legends of Enzo Ferrari, Ferruccio Lamborghini, the Maserati family and Sergio Scaglietti were truly the candles that would light up my imagination. It is only thanks to them that today the Motor Valley is seen as the ultimate in excellence, renowned, admired and praised all over the world. And so I managed to come here, to Modena, arriving on 15 June exactly 35 years ago, with 2 suitcases and a presentation letter given to me by none other than Fangio, a great man even before he was a Master. After fifteen days, my wife joined me in Italy and the adventure really took off: I worked in a plant nursery, then as a steel welder on building sites until in September 1983 I was lucky enough to land a job as an unskilled worker in the Lamborghini plant. There I started from scratch, succeeding over the years in working my way up and participating in some important projects: first I worked in the bodywork department, then I passed to the composite materials area, before later creating the first supercar chassis in carbon fibre, as well as working on the designs for the Diablo, the P140 and the first Lamborghini SUV. I spent nine years there: nine wonderful, rewarding years of my life in an environment that taught me so much.
But your idea, almost an obsession, was to build your very own car.
Yes, that's right! In fact, when I left Lamborghini, I started working on the Zonda design. I had no funding of any kind, and this was in a period of terrible economic crisis, after the First Gulf War. But, even though I was only putting my faith in subjective reasons, I believed in my instinct. I believed that the project would come to life. I was intent on carrying my dreams forward!
When working on the design of the first Zonda, what were the unique, distinctive elements you focused on?
I have always believed that the designer, or any creative person in general, shouldn't work for themselves but for their customer and aim to meet the customer's functional or emotional needs. However, the first Zonda was inspired by my images of racing cars, especially the ones that took part in the famous 24 Hours of Le Mans, of which I was a great fan. The chassis simply had to be completely made of carbon fibre, a technology that hardly anyone used back then. Moreover, the uniqueness of the car would lie in its exclusive, completely original design. I wanted it to look nothing like the other supercars on the market. I wanted it to generate brand new emotions. We know all too well that anyone who buys a car like this one is driven, above all, by irrational, emotional motivations. So any kind of object used in the car had to be an object of design. Indeed, it had to be stunning all over, inside and out. Of course, it goes without saying that absolute excellence was our goal in every environment, part and detail, even those that are not visible. We have always dedicated a great deal of hard work to the scientific research needed to achieve and maintain this level of perfection: each year we spend 20% of our revenue on research and development, on average 10% more than the amount spent by other companies.
So would we be correct in saying that, like a Cesare Attolini jacket or suit, every Pagani is tailor-made to meet the requests and needs of each individual customer?
Here, the attention we pay to pleasing the customer is everything. Our mission is to make our customers happy, as they are our real employers. Each of our cars is unique: it is built according to a personalised design which is defined by listening to our customers. All of our cars are different from one another. Each Pagani is the result of a true psychological study, geared to understanding the mechanisms that make each customer tick.
Can you tell us about the future projects you are working on?
We are working on a new Roadster, which will be even sportier than before and should come out next year. Whereas in 2021, we will present a new coupé, which will then be introduced in 2023 in a new fully electric version. At the moment our team of designers is very focused on the automotive product, but it was just as focused when we designed our production facility and showrooms too, so in future we may well consider working in new fields.